Hometown Sanitation, LLC
We are Grays Harbor's "hometown" garbage collection service. Since our founding in 2004, we have been committed to providing professional and friendly service, always putting our customers first.
---
Our staff is available Monday thru Friday: 9:00 am - 11:30 am, 12:30 pm - 5:00 pm. If you get our voicemail, please leave a message and we will return your call as soon as possible.

ATTENTION! We are now taking credit card payments online - click the Pay My Bill button above. You can also set up automatic recurring payments by filling out an ACH form.
---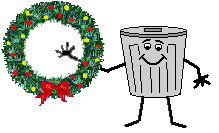 Holiday Schedule
Thanksgiving: No changes, normal schedule.
Christmas Day:
December 25th (Monday): Pickup day is moved to Saturday, December 23rd.
New Year's Day: No changes, normal schedule.