Hometown Sanitation, LLC
We are Grays Harbor's "hometown" garbage collection service. Since our founding in 2004, we have been committed to providing professional and friendly service, always putting our customers first.
---
Our staff is available Monday thru Friday: 9:00 am - 11:30 am, 12:30 pm - 5:00 pm. If you get our voicemail, please leave a message and we will return your call as soon as possible.

ATTENTION!
We have a new Auto Pay option. To fill out an ACH form, click the Auto Pay button.
---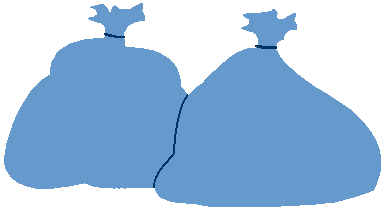 Garbage won't fit in your tote this week? No problem! Hometown Sanitation's blue bags can be purchased ($17.00 for a package of 3) at our office in Hoquiam. Note that extra garbage bags can be used on an occasional basis only.